Something I thought would be fun to do is write a few thoughts down after I beat a game. Not a review, exactly, just what I liked and didn't like about the game, how long it took me to beat, etc. No in-depth writing, just my rambling thoughts! I thought of this idea a few months back, and I've actually beaten a few games since then (go me!). The first game on my list is Doubutsu no Mori!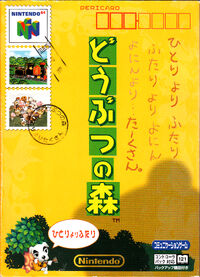 Game Title: Doubutsu no Mori
Platform: Nintendo 64
Hours Played: approximately 20
About The Game
Doubutsu no Mori is the first game in the Animal Crossing series. It was only released in Japan, so I played the game entirely in Japanese. It's a life simulation game, and you live in a village populated entirely by animals. I considered the game beaten when I paid off my house- though it certainly is open-ended and can continue to be played and enjoyed for many years!
What I Liked
Well, it's Animal Crossing, so of course I loved it! I loved the simplicity of the day to day life in Doubutsu no Mori- chatting with villagers, decorating my house, fishing, digging up fossils… there is something so relaxing about it! I love how since the game was released in Japan, there are Japanese holidays I can take part in. It's interesting to see some of the cultural differences!
What I Didn't Like 
I was a little disappointed in the fact that dressers and other storage chests only hold one item each! Since the house is only one huge main floor, it makes it really hard to have a place to put extra items. Likewise, music players can only hold one song at a time. Also, you can only hold 50,000 bells at one time, which is more annoying than you might think. These are all little nitpicky things, though, and they don't really detract from the game itself.
Closing Thoughts
I love this game! I am excited that I finally paid off my house, but that doesn't mean I'm done playing. Like all my other Animal Crossing towns, I will still play Doubutsu no Mori and check in on all my little villagers!