Since October is the spookiest month of the year (and I love Halloween!) I decided it was only fair that I choose something spooky for my Why I Love feature! Porky Pig's Haunted Holiday may seem like a really odd choice, but read on for why this game stands out to me! 🙂
Porky Pig's Haunted Holiday was released for the SNES in 1995. I was 9 years old, and was really good friends with a boy in my class (who eventually became my first boyfriend, though we were super young and perhaps being boyfriend and girlfriend had a much more innocent meaning!). We both LOVED video games and would always play them together, frequently trading our SNES games back and forth. We would even sit on the phone together and play the same game at the same time to see who would get further, and we would discuss the levels we were on!
One game that he had that sparked my interest was Porky Pig's Haunted Holiday. I can't recall how I first learned about it from him, but I know I watched him play it and I thought it was so neat! I had to get my own copy. That game became one of the games we frequently played together and/or talked about!
One reason why I love this game is because it has a spooky theme! The whole game is, after all, based on the crazy dreams Porky Pig is having. Each level is unique and has some really weird enemies and levels. There are some truly creepy features in this game!
Also, the weather changes whenever you play, which is a unique feature I haven't seen utilized in a ton of games. For instance, one time you play it may be sunny, the next time snowing, the next time raining. You never know what you are going to get! That always fascinated me as a kid, and I couldn't figure out how they did that. 😉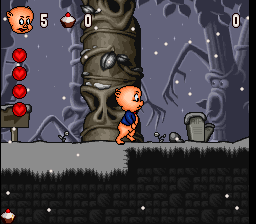 The music in this game is pretty good too! It is sufficiently creepy and somewhat panicky sounding at times. There is one level whose music always stood out to me, and that was the music of Stage 2- Dry Gulch Town. It just had a certain weirdness to it. It was soft and almost forbidding while managing to sound somewhat cheery. It's hard to describe, but I like it!
 I realize the platforming has been criticized for being too easy. But as a 9 year old kid, this game kept me interested and kept me playing the levels over and over until I finally beat the game. 22 years later, I still think about this game and think about the creepiness of the levels and characters! Now that Halloween is coming, maybe it's time I dust off Porky Pig's Haunted Holiday and have some good, creepy fun!
P.S. I should mention, the 3rd level is just shit. It used to take me forever to figure out where to go.