As y'all are probably aware by now, when I start following someone's blog, I make it a point to try to read all of their posts, past and present. The problem is, I am painfully slow at doing this and constantly playing catch up. With that being said, recently I stumbled upon a post written in 2015 by Cilla vs. Games about her gaming firsts, and I thought it would be a fun post to do! She had written this post in honor of National Video Games Day, which is cool. Anyway! Here are a few of my Gaming Firsts! 😉
The First Game I Remember Owning and Playing
This honor goes to Tetris for the Nintendo Game Boy! I've written about this before, but the gist of it is… I saw an advertisement for the Game Boy on tv, told my mom I wanted one, and what do you know? On Christmas, I had my very own Game Boy, which came bundled with Tetris! I LOVED to play Tetris so much, and it remains one of my favorite puzzle games to this day.
The First Game I Spent More Than 100 Hours On
Well, back in my day (haha, I'm old) there wasn't a whole plethora of games and systems to choose from like there is now! I pretty much grew up playing my Game Boy and Super Nintendo only… unless I went to a friend's house that had a different system! Because of that, I played some of the same games over and over, and I Loved. Every. Second! With that being said, I bet you I put over 100 hours into Donkey Kong Country for the Super Nintendo. I'd beat the game, erase it, and start over constantly. I spent hours looking for every hidden bonus and memorizing every level. It was an obsession.
The First Game I Played Online
I've never been a big online gamer- neither solo nor multiplayer. So I'm really trying to think of a game I played online, and the best I can come up with is some website I used to get onto with my husband (then boyfriend/fiance) back in like 2003 or 2004. It was a neat website with lots of different games you could play against people, but I can't remember the name of the website. All I know is that our user name was FishPatty. Who knows what we were smoking when we came up with that name!
The First Game I Obtained The Platinum Trophy For
LOL welll…. I don't really go after achievements in games. Too much of a hassle in most cases, plus I'm just not that talented. Can I just answer this question with the first game I ever 100% completed?… Super Mario RPG: Legend of the Seven Stars for the Super Nintendo! I had everyone in my party with max stats, I found every hidden treasure box, I did every little sidequest… it remains one of my great gaming achievements to this day 😉
The First Game That I Played With Someone Else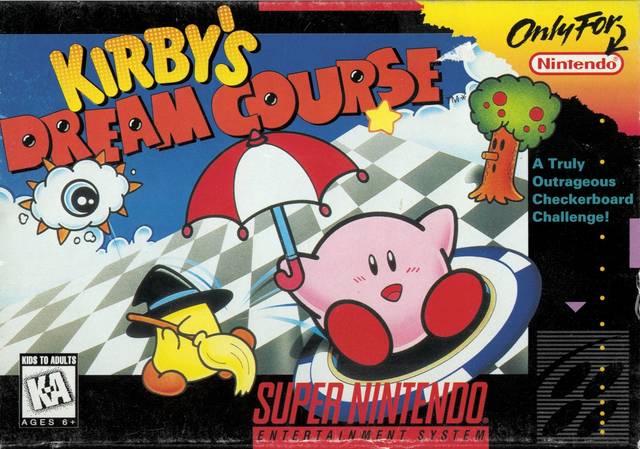 I played video games with my friends down the street a lot when we were growing up, but the first game I have explicit memories of playing was Kirby's Dream Course for the Super Nintendo. My friend Jason and I would spend HOURS playing the two player courses and laughing our asses off at our misfortunes. Good times!
The First Game That I Purchased DLC For 
As a rule, I generally don't purchase DLC because the whole concept of it annoys me to no end. With that being said, there are a few exceptions to that rule, such as if I think said DLC really adds a lot of value to the existing game and it is a decent price. I'm pretty sure the first (and one of the only) times I paid for DLC was when all the extra content was introduced for Mario Kart 8 for the Wii U. I think there were 8 new tracks, 6 new characters, a few new kart parts, and a bunch of new colors for Yoshi and Shy Guy (so each new color could almost be considered a new character). It seemed like a lot of new stuff for like $11, so I bit the bullet and paid for it.
P.S. Sorry the picture above is so shitty, I couldn't really find a good one for some reason? Plus, I'm lazy, so if I can't find it right away, forget it!
The First Game That I Streamed
I have never streamed a game in my life- I'm not cool enough nor good enough for any of that mess.
So there you have it! A few of my gaming firsts. It was fun answering these questions!